Creating a Hybrid Workplace – The What, The How, & Companies That Are Doing It Today
The Hybrid Workplace: Industry's Latest Buzzword
As an employee encouraged to work from home when COVID-19 struck in 2020, I know going back to in-office work is going to be a big transition. If I didn't work for an already flexible company that will continue to let me work from home as I please, I would be dreading the return even more.
And I'm not the only one. Survey says,

Working from home gave me confidence that I could do my job from anywhere. It made me feel good that my company trusted me enough to do so. And it made me feel safe and in control in a time where that seemed almost impossible.
With that said, I do miss the interactions of the office. I miss seeing my coworkers and having impromptu brain dumps with my boss. There's something about the office that keeps the creativity flowing and makes collaboration easy.
From Cushman & Wakefield's Purpose of Place report, they found:
Half of employees struggle to connect with their company's culture during the COVID-19 induced remote work experiment.
And only 55% of employees working remotely during COVID-19 had a "sense of wellbeing."
The report also mentioned a 2007 meta-analysis that stated,
"workers see greater autonomy and lower work-life conflict when working remotely up to 2.5 days per week; beyond 2.5 days per week, the researchers found that there were greater harms to relationships with coworkers."
So, basically, I am saying employees, like myself, enjoy the trust, confidence, and ease of working from home but also want the collaboration of the office.
We want CHOICE and FLEXIBILITY.
Which leads to the newest buzzword, the Hybrid Workplace.
[Learn everything there is to know about the hybrid workplace when you download this guide.]
What is the Hybrid Workplace?
A hybrid workplace is a flexible workplace practice that empowers employees to work where and when they want, usually by balancing their time between office work and remote work.
It is very similar to the practice of WFA (Work from Anywhere) with a few key differences.
Hybrid vs WFA
Hybrid workplaces still offer a centralized place for work (the office) and prefer that a portion of their employees split time between the office and remote. WFA companies tend to have smaller offices, or satellite offices and offer coworking sites, stipends for at-home office setup, etc.
Hybrid teams will likely continue to recruit talent that lives within commuting distance to the office where WFA teams can hire anyone from, well, anywhere. And same goes for current employees, hybrid employees will stay in a location close enough to the office to make commuting possible for in-office days whereas WFA employees can move anywhere at any time.
Hybrid companies are more structured; management may have more of a say when teams should be in the office. WFA means you are working remotely 100% of the time; it's up to the employee each day to choose where that may be.
Creating Your Hybrid Workplace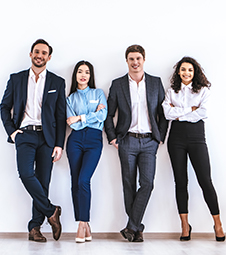 Champion Team
Step 1 in creating a hybrid workplace is finding the right employees for your Hybrid Champion Team. This team will create, manage, and run your effective, successful Hybrid Workplace. How many members will depend on your company size but consider involving someone from each department so that implementation can be done quickly and more effectively by department.
With a team in place, it's time to discuss the model and strategy that best fits your company.
Hybrid Models
Step 2 is to think about the kind of mix your hybrid workplace will have. How many in-office days should there be? Should it be specific or lenient? Some options may include,
Taking a more remote-first approach. You may have heard the term remote-first from our pre-covid trends blog, in this case, it means employees are first and foremost connecting remotely, using the office as a meeting place for planned, specific in-person moments only.
3-2. This means employees are in the office 3 days a week and remote the other 2 days. Or vice versa.
Average. This approach has your employees averaging a certain number of in-office days over a certain amount of time. For example, you may want your employees to average 3 in-office days over two weeks.

 
For this step in creating your hybrid workplace, we suggest you start by taking an employee poll to get input on how many days they want to be in office vs. remote, or what kind of model they think your company should follow.
Hybrid Strategies
As you are thinking about the different ways you can structure the work week you should also think about whether the model will differ by group. This is step 3. Your policies might work better whether they pertain to the employee, department, or company.
By employee
This gives the choice to the employee regarding when and where they work. They can choose which days they want to spend in-office vs. remote. It's the most flexible option and works better for smaller companies.
This option would need to be backed by a lot of communication and an easy way for employees to show where they are working each day so colleagues and managers can be in the know.
By department
This means coming up with different policies by teams or departments. This may be the least flexible choice of the three because the in-office days are likely the same each week so team members can be in the office together.
It may also be the easiest to manage because the office can be split into neighborhoods and the workspaces, rooms, and resources within each neighborhood can be available to different teams on their designated in-office days.
By company or location
This option gives your hybrid workplace some structure while also offering choice and flexibility to the individual employee. It would include coming up with a companywide policy that tells employees how often they can work remotely vs. in-office. It can be more strict or more lenient depending on how much structure your company needs.
For instance, by telling everyone they're expected in the office 3 days a week and the other 2 wherever they please, employees can choose the days they want to be remote and reserve workspaces and collaboration areas for the days they are in the office.
Whichever hybrid mix you choose when setting up a hybrid workplace, it's best to plan thoroughly and gain input from the people it will impact the most (the employees) right from the start.
[Learn how to create and support a post-COVID, hybrid workplace by downloading this guide.]
5 Companies That Have Embraced the Hybrid Workplace
1. Ford moved 30,000 employees to a remote-first hybrid work model. Employees will now do independent work at home and use the office for group projects and meetings and assignments that require in-person interaction.
2. Citigroup is embracing a 3-2 hybrid model for most of its employees. With branch workers still onsite and some roles remaining 100% remote, the rest of Citigroup's employees will work three days in an office and the remaining two at home.
3. Google is also following the 3-2 model and will start testing their flexible workweek when they begin their return to the office in September.
4. Target is one of the first major businesses to use the pandemic disruption to save money on real estate. They closed one of their three downtown Minneapolis offices and embraced hybrid work. Employees that were at that location will now have a "home base" at one of the other two buildings and will get to choose between in-office and remote days.
5. Microsoft is returning to the office in stages and once they reach the final stage, they will finalize their new hybrid work model. Flexible roles with manager and team alignment will work from home part of the time (less than 50%).
These large companies are all embracing hybrid work but what about smaller companies?
Does a Hybrid Workplace Work for Small/Medium-Sized Companies?
As a member of a small company, I can tell you it does! Before the pandemic, we were working on a hybrid model by employee. My manager and I worked in the office together Monday-Wednesday and at home Thursday and Friday. A lot of our Product Managers followed the remote-first approach only coming to the office for weekly department meetings and collaboration exercises.
And all that was made possible because we put digital-first and used our own workplace reservation software to reserve the space we needed when we were in the office and updated our statuses when we were working elsewhere.
With your hybrid strategy in mind, your next step in creating a hybrid workplace is ensuring you have the communication, training, management, workplace, and culture to support it. Don't worry, we've got you covered in this blog post.
If you're in charge of the safe return, check out our back to the workplace page and download our guide to the post-COVID, hybrid workplace.