9 Hot Desking Best Practices
To manage a successful, flexible workplace, follow these 9 hot desking best practices.
The purpose of the workplace is changing and employees are wanting to see more flexible, hybrid workplace policies, like hot desking. Hot desking is getting a better reputation for itself and organizations are starting to understand why.
So, with hot desking on the brain, how do you ensure you are implementing an effective, beneficial program for all? Follow these 9 Hot Desking Best Practices and you'll be set up for success!
But first…
What is Hot Desking?
Hot desking is a flexible workplace practice that keeps offices, conference rooms, etc., open for employees to use when it suits them best. This practice makes it easy for employees to find a desk in the spur of a moment or grab a workspace near their teammates so they can collaborate quicker and easier.
With that in mind, let's look at 9 hot desking best practices broken into three parts:

Part One: Implementing a flexible, hot desking program
1. Understand what hot desking is before taking the next steps.
Before jumping feet first into a hot desking program, you first need to understand what it is, why you'd want to implement it, and how to explain it to your workforce. This flexible workplace practice can offer choice & flexibility to employees while saving organizations money.
Just a few hot desking benefits include,
Boosts in creativity
Improved communication and productivity
Increased flexibility
Rises in knowledge sharing
Reduced real estate costs
When managed correctly, a hot desking program gives employees the chance to work where they work best, around colleagues and teams that empower creativity, while also providing the company structure and answers to space utilization questions, like what spaces do employees use most and do you need more space at all?
2. Ensure you have the right technology.
Cloud Filing & Storage / VPN
Step one is making sure work can be done from anywhere. The basics of that is providing employees access to the company's VPN and to all company files via the cloud.
Hot Desking Equipment & Essentials
Employees need laptops. And each workspace needs to be set up with phones, monitors, keyboards, and mouses that easily connect to that laptop. When an employee reserves a workspace for the day, they should have everything they need to make it a productive one.
An added hot desking essential would be cubbies and/or lockers. Providing a place for employees to keep their personal items is a plus and can help with adoption of this new flexible program.
Find & Implement a Desk Booking Software to Properly Manage Hot Desking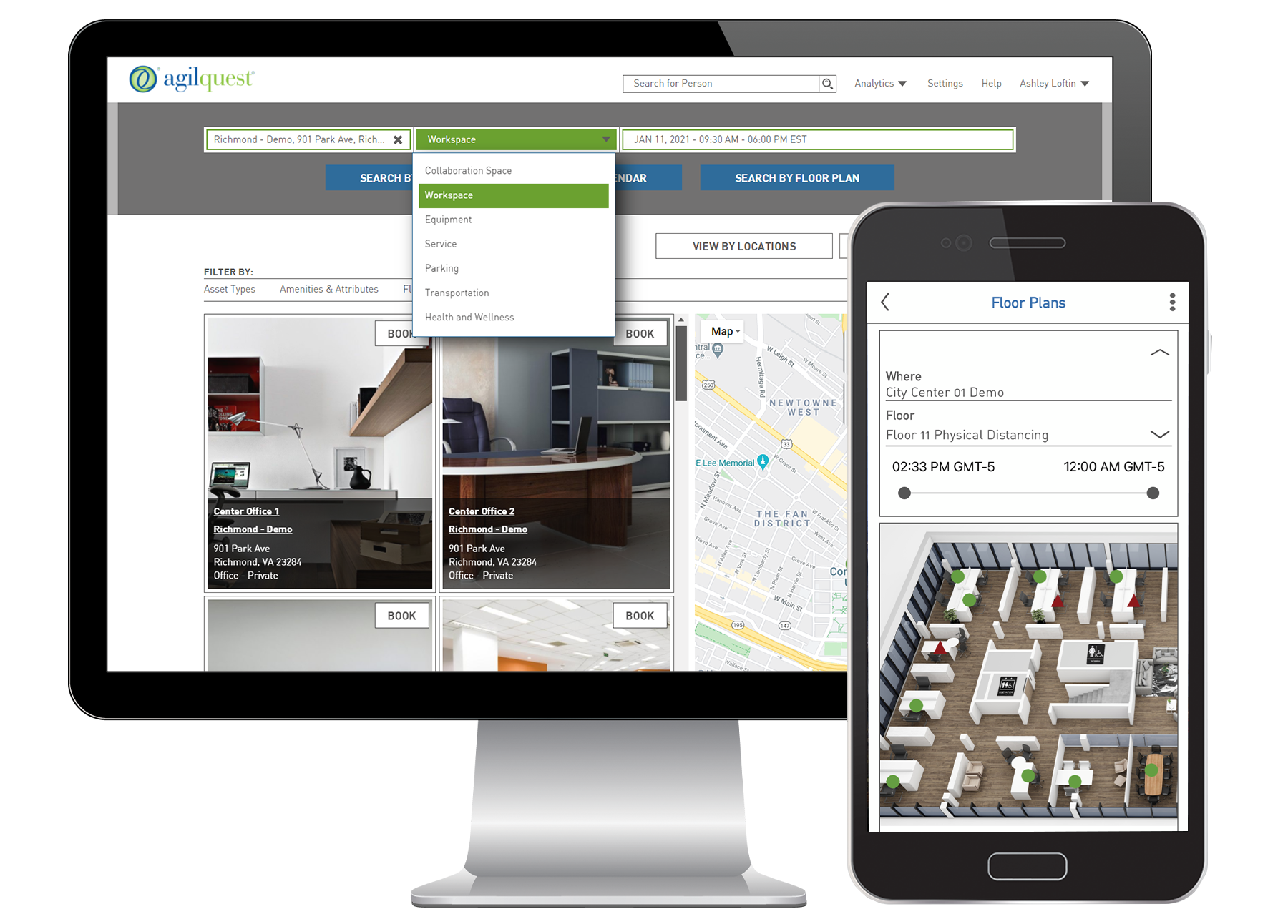 To easily manage the different workspaces and offer a quick, intuitive way for employees to reserve space, implementing a desk booking software is a must.
This system manages all office resources in one place and lets employees grab desks from their mobile phones or desktops at any time of the day, wherever they are. It also provides information to answer your top space utilization questions, and helps continually optimize your hot desking program, so it stays successful and productive.
(Learn about AgilQuest's Desk Booking Software)
3. Provide an array of workspaces to satisfy all employee types.
It's time to change up your space so employees can get the most out of the office. The #1 reason employees use the office now is for collaboration. Your office can be set up to include collaboration spaces, huddle rooms, closed-door offices, open floor plan desks and workspaces, meeting rooms, etc.
Pick what you think your employees use and need the most. Then, see how it's working for them with the data gathered by your hot desking software. Test different variations until you find the one that works best for your workforce.
4. Add QR Codes to workspaces and meeting rooms so employees can quickly access them.
Make it beyond simple for your workforce to claim space instantly by adding QR codes to workspaces and rooms. Employees can scan the QR code with their hot desking software's mobile app and see when the space is available and reserve it right on the spot.
Part Two: Managing Your Flexible Program
5. Establish Hot Desking Guidelines & Policy
A most important hot desking best practice is creating a Hot Desking Policy with guidelines for your workforce to follow. You can download this checklist to take with you and share with your organization.
6. Get a team together to help with the internal onboarding.
Having an internal team of hot desking champions will help make this a smooth rollout and a user adoption success.
First, find the employees that are always ready and eager to support the company and its new initiatives. We call these the Champions.
Then, the trickier part, find employees who may push against a change like this and work to get them onboard and in the process early on.
With this team in place, work on a timeline and plan for your internal rollout.
7. Plan your internal rollout.
Your internal hot desking program rollout should include
Instructions for the workforce and middle management. Create documents explaining the new process and procedures. Discuss with middle management how this will affect them and their new roles throughout the process.
Email communications. Create emails before the roll out explaining what is happening, how everyone will be impacted by it, and what they can do if they have questions or concerns. Start sending out emails weekly leading up to the launch of this new program.
Training initiatives. Schedule training sessions for the workforce and management to attend to understand any new software being implemented for this program and to go through the new guidelines and best practices.
Your internal champion team, ready to answer questions and help the company through the process of implementing this new hot desking program. Make sure they feel confident in their job as you push this forward.

Obvious structure. It's important to make all of this make sense. Your Champion Team is there to advocate for this new program and help their coworkers understand the new program. But that doesn't necessarily mean they are the ones to answer questions and concerns.

Figure out who will oversee answering questions (for example, each department's manager/director) and then make it known company-wide. Put all documents, policies, guidelines, emails, etc. in one easy-to-access place so employees can quickly refer to it when needed.
Part Three: Supporting Your Hybrid Workforce
8. Make it easy to keep it tidy and clean.
Ensure everyone feels safe and sanitary with this new hot desking program by implementing a clean desk policy. You can make it easy by creating a list of to-dos, like throw away your trash, wipe down desk area, etc., and putting a printout at each work area to remind employees what to do once they are done with the workspace.
Then, add wipes, trash cans, and cleaning supplies throughout the office so employees can grab what they need quickly.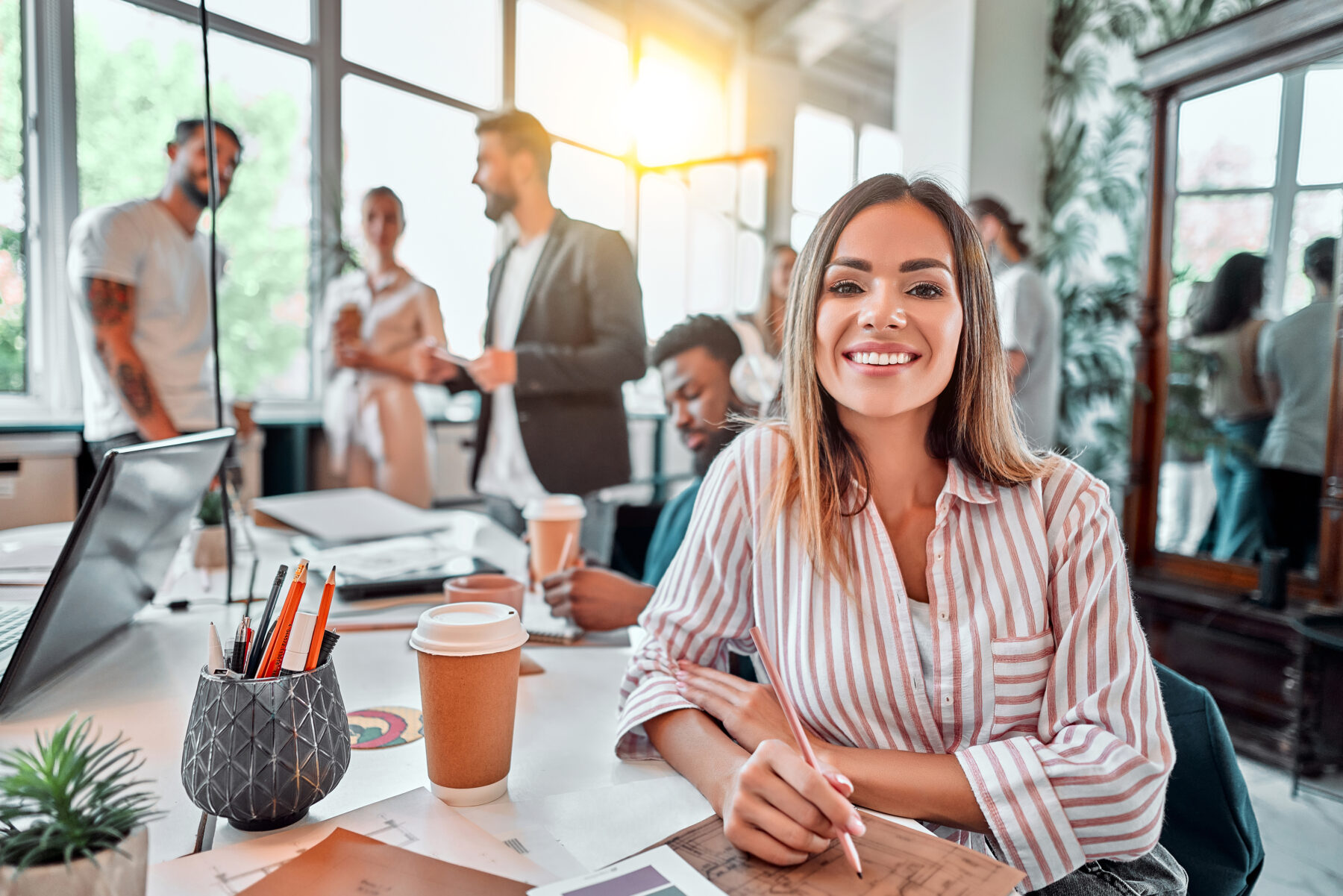 9. Get your workforce on board and excited!
Finally, with your hot desking program documented and your internal rollout plan in place, it's time to see all your hard work at work.
Remember to explain why hot desking will be beneficial to employees, including new places to work, fresh perspective, and fun, collaborative environments.
Set everyone up for success with all documentation and guidelines in one place and the understanding of who to turn to if they have questions or concerns.
Understand that change is hard for everyone and that this whole process will take time and a lot of communication to get it working and successful.
Use your hot desking software to get reports on how your workplace is being used under this new policy and tweak it as you go so it is the most successful for your workforce and organization.
My final note to you: YOU GOT THIS!
Comment below with your thoughts on hot desking and any additional hot desking best practices you have to share.