How To Hot Desk Successfully & Build Your Company
With hybrid workplaces on the rise and the terms flexible, hybrid, hoteling, and hot desking running rampant, it's important to understand what hot desking is and how to hot desk successfully. If you search the term hot desking, you may run across posts saying don't do it, it will only hurt your company, etc. This post was created to prove those theories run and show you how you can find success with hot desking.
What is Hot Desking?
Hot desking is when a company has open seating, whether it's offices, conference rooms, etc., that employees can utilize when it suits them best. This practice makes it easy for employees to find workspaces near their teammates so they can collaborate quicker and easier.
But is there a disadvantage to hot desking? According to Forbes, hot desking will kill your company… Let's look into this.
Forbes definition of hot desking:
Hot-desking is a working arrangement where employees have no assigned desk. Each morning you get a workstation based on that old standby, first-come-first-served. If you show up at 5:30 a.m. then you'll likely have your pick. Later than 9 a.m., then probably you'll get what's left even if that means working apart from your colleagues.
Hear me out. If ↑THIS↑ is how a company believes hot desking should work and implements it this way just to save money… then yes, 100%, this will KILL your company. But it doesn't have to be like that.
How to Hot Desk Successfully
Imagine… the sun is shining and that third-floor workspace with the best view of the city is calling your name. Well, go for it! It's yours.
Imagine… a huge project has just come in and you and your team are totally going to crush it. We are here for it! And so is your favorite conference room on the first floor.
With the correct software in place, hot desking is an easy and ideal solution for the agile, flexible workplace. And there are a couple of ways to use it to maximum efficiency. 
Using a reservation software, like Forum, you can reserve your favorite workspace the day or week before you want to use it. Or you can reserve it on the spot by using the room's QR code and your Forum mobile app. If you need to meet with a large group, you can reserve a collaborative space ahead of time or just minutes before you need it.
When done incorrectly, catastrophe may strike. But it's so easy to hot desk successfully! We'll show you how by taking Forbes' list of reasons you shouldn't hot desk and change them to reasons you SHOULD!
7+ Ways Hot Desking Builds Your Company
1. Sends the message that employees are the number 1 priority
Allowing your employees to choose where they sit and with whom gives them the freedom and flexibility they desire in a job. It shows you don't need to be breathing down their necks to know they are doing their best work! 
2. Helps to eliminate the work from home hypocrisy
It's past time for companies to embrace the work from home, flexible workplace phenomenon. 77% of employees take a flexible work arrangement into major consideration when evaluating future job opportunities. Employees see their self-worth and will find other jobs that see it, too. 
In order to keep and retain top talent, companies need to change with the times. Offering a flexible workplace with hot-desking options is one way to do it!
[Related Article: 13 Benefits of a Flexible Workplace]
3. Contributes to on-the-job training
Enabling new workers to reserve workspaces near their new team, their boss, etc. helps them with their new job training. This way an employee can be right in the action from the start. The team can also change up the scenery when teaching the newbie so that they can see and experience it all.
[Plus, there is no need to spend hours walking around looking for your team because you can find their faces and locations by using the My Teams feature. That's hot desk success right there!]
4. Colleagues can find key people
With a feature like My Teams, you can create your team within your room reservation platform, that way you are able to find where your team is sitting at all times. You can reserve a spot right next to them or even reserve a collaborative space just a few feet away from where they're currently sitting to make it easier for you all to meet up quickly and efficiently.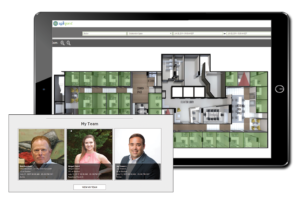 You don't have to struggle with trying to get a hold of your teammates because they are right there on your screen just a couple clicks away. Find them in seconds and get started on your productive day!
5. Super-quick meetings can happen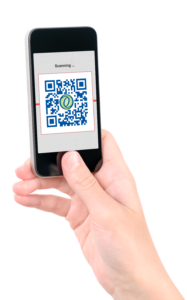 With hot desking, there are rooms and meeting spaces available all the time, right at your fingertips. You just need to know where to look. Using your app, you can see all the available spaces and book a conference room instantly so that impromptu meeting doesn't seem so impromptu.
Even faster than that, you can use the QR code right outside the empty conference room or workspace to scan it and claim it right where you stand.
It might just be the QUICKEST way to have spontaneous meetings.
6. You can ask for help
I don't want to be repetitive here, but it's insanely easy to ask for help. Either you've already used your My Teams feature and you reserved spots right near your team. Or you whip out your phone real quick and look up where an expert is sitting so you can go get the answers you are looking for.
Sure, you might have to walk a couple of steps more than if they were sitting right next to you but you should be taking walk breaks anyway. It's very good for your health!
7. Adds up fast
It really does! With all these benefits of hot desking, a company can thrive! Using a reservation software to allow employees to quickly and easily reserve workspaces allows you to cut down on space, provide a flexible, collaborative workplace and have happy, happy employees!
Additions…
On top of the above reasons FOR hot desking, there are additional ways to use a workplace management software to hot desk successfully that Forbes didn't address. When presence is systematically collected, and workspaces are claimed, reserved, checked-in to, and checked-out of, the data you are able to derive is invaluable.
The ability to see how people are using the space, who is at the office most often, which spaces are most desirable, etc. can lead a company to answer many questions about their space utilization. Data is always useful and having it for your flexible workplace management can be actionable, like showing you ways to use your space differently and more efficiently, plus it can show you just how well your hot desking and seat management is working!
[Related Resource: Check out this sample analytics guide to see what insights you can get from workplace management software data.]
Don't fear the words hot desking, no matter what you read. When you manage and support it correctly, you'll be hot desking successfully in no time!
So, what's your final say? Will hot desking kill or build your company? Leave your thoughts in the comments.
If you want to learn more about the Forum, our room reservation software, check out these helpful resources: