Forum SaaS Workplace Experience and Management Platform Features & Pricing
Modern workplaces must be supported by technology that makes it easy to find the best place to work and collaborate, wherever that may be.  Enhance your workplace experience with a platform that your employees will want to use, that integrates with systems you already have in place, and that has all the features to fit your business needs.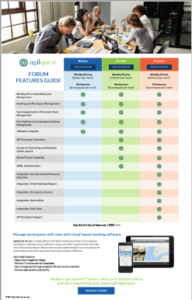 Download our pricing guide to see the highlighted features in each plan and take the next steps to managing your modern workplace experience!
Download the Guide Now.