Back to the Workplace

Making our way back to the workplace will take planning, brainstorming, acting, and reacting.
What your company doesn't need is this process taking too much of your time and money. So, we are here to help. 
AgilQuest's SaaS, Cloud-based Forum Platform resolves many of the challenges COVID-19 creates when re-occupying office space. You can leverage our "Back to the WorkplaceTM" Solution to Plan, Execute, Measure/Monitor, and Optimize new workplace processes to keep your employees safe, now and into the future.
Demo Forum For Your Workplace               Download the Back to the Workplace Guide

---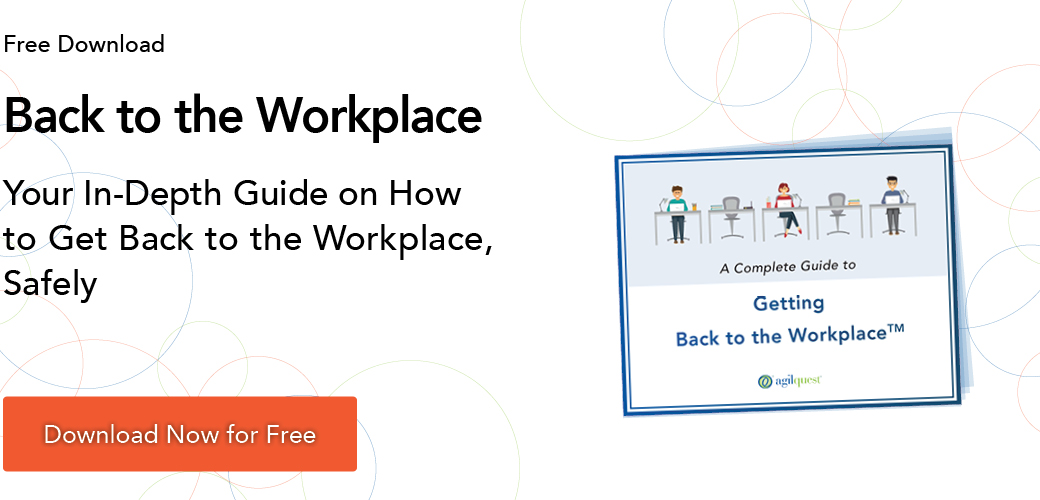 ---
Have additional questions or want guidance going forward? Contact us and we will help you get back to the workplace.
We discussed the challenges organizations are facing with the return to the office and how a workplace management platform can be a cost-effective solution to executing physical distancing in the workplace. With,

Click here to watch it today!
Additional Resources for Getting Back to the Workplace
Remote work won't kill your office: September 22, 2020, Axios
Ranks of mobile workers to swell to 93.5 million by 2024 amid move to remote work, says IDC: September 1, 2020, ZDNet
Why landlords are teaming up with flex space operators: August 24, 2020, JLL
The Office Is Not Dead – Just Evolving – and Definitely Here to Stay: July 7, 2020, NREI
How US companies are planning for a safe return to the workplace: June 26, 2020, McKinsey & Company
What's Next? Securing the New Age of Government Telework: May 28, 2020, MeriTalk
Amid COVID-19, Let's Rethink Workplace Flexibility: May 8, 2020, Gallup
Welcome Back to the Office. Your Every Move Will Be Watched.: May 5, 2020, The Wall Street Journal
More big employers are talking about permanent work-from-home positions: May 1, 2020, CNBC
NY Will Hire Contact Tracing 'Army' Of 17,000 To Battle Coronavirus, Cuomo Says: April 30, 2020, Forbes
Safe Work Playbook: April 27, 2020, Lear
Offices, work sites, employees roles to be reconfigured post COVID-19, say CFOs: April 26, 2020, ZDNet
WILL PHYSICAL DISTANCING BE THE END OF THE OFFICE?: April 23, 2020, WSP
Why contact tracers are key to unlocking economy: April 18, 2020, The Hill
Large Corporations Could Bring Office Employees Back In Waves: April 15, 2020, Bisnow
Growth in DOD Telework Capability May Outlive Coronavirus Pandemic: April 13, 2020, DOD News
Will the open office die following COVID-19 pandemic?: April 13, 2020, ZDNET
What Will Tomorrow's Workplace Bring? More Elbow Room, for Starters: April 7, 2020, The New York Times
CFOs looking to make remote work, telecommuting more permanent following COVID-19: April 6, 2020, ZDNet
What will be the Future of the Office?: April 2020, OPX Global
Commercial real estate must do more than merely adapt to coronavirus: April 2020, McKinsey & Company
Developing A Positive Emotional Culture During Times Of Change: March 26, 2020, Work Design Magazine
Guidance on Preparing Workplaces for COVID-19: OSHA
Opening Up American Again: The White House