Choosing a Meeting Room Booking System for your Modern Office
As millennials become the majority of the workforce with Gen Z right behind, it's time for companies to change their priorities so they can attract and retain new, top talent.
And don't worry, we aren't forgetting about those who have been in that office life for a bit longer than that. But these changes are exciting for everyone!
Some may argue the 9 to 5 is the way of life. Except, when you get down to it,
We are only averaging 2 hours and 48 minutes of productive time during a workday

And we get 26% of our work done outside of normal business hours
(Thank you, Rescue Time, for your thorough work-life balance research!)
So, we've had to reimagine the office. It's time to offer places to work that drive creativity, production and collaboration. It's time to offer flexible hours and workplaces to make it easier and more enticing to go to work and get it done.
And it's our job to make sure your transformation to a flexible, modern office is easy peasy lemon squeezy.
Read on to learn more about workplace management, what to look for in a meeting room and desk booking system, and how to conquer the world (or at least your office world!)
---

---
TABLE OF CONTENTS
Top Features for Admin
Data & Utilization
Business Rules & Configuration
Implementation
Top Features for the End-User
Intuitive
Not Much Change
Easily Find Teammates
Seamless Meeting Experience
Trying to Manage Your Conference Rooms Without a Workplace Management Software
When making the switch to a flexible workplace, and offering a variety of spaces, like conference rooms, collaboration areas, desks, etc., you will want it to be manageable.
Since the dawn of age, booking meeting rooms has been a necessary hassle. Like,
Have you ever gone to book a meeting room, but they're all reserved, yet they really sat empty all day?

Or had one double-booked and showed up at the same time as the other team?

And then, what do you do when you need,
a room that has video conferencing capabilities and a whiteboard?

or an office with a window and an adjustable height desk?
These are just some of the pains that are alleviated when you find the perfect meeting room booking system.
So, What is a Meeting Room Booking System?
It's not just about walking aimlessly around the office looking for displays saying whether a room is free or not. Or even worse, looking for a sign of life before claiming the space as your own.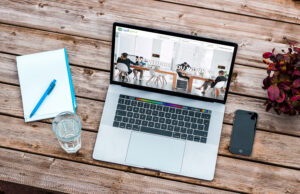 With a meeting room and desk booking platform, you'll be able to see what rooms are available, check if your teammate is in the office and where they are located, and claim the space you need, all before even stepping foot into the office.
And if you're in charge of the office space, information about how much space you really need and how it is being used is gathered and accessible in your workplace management platform.
Now, how do you pick what you need in a workplace management software? And what about hardware for outside of each room? Continue reading for all the answers!

Should Your Meeting Room Booking System Search Include Software, Hardware, or Both?
When you begin your meeting room booking system search, you'll want to know whether you are looking for hardware, software, or both.
Having interactive hardware outside of meeting rooms and offices can be exciting but expensive and, alone, can't provide as much value to you as a software can. So, focusing on software should be your first priority.

Software Options for Conference Room Management
With an intuitive, top-notch software that can be accessed and used by a desktop platform or mobile app, pairing it with hardware becomes optional. Finding a vendor with your perfect meeting room and desk booking system is about finding the platform that offers the tools and amenities that fit your needs. Like in-depth analytics, high-level admin tools, multiple ways for employees to easily book and manage their spaces, and much more.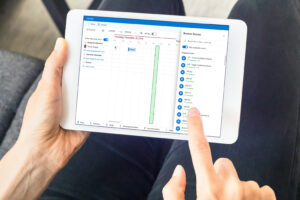 (We'll dive into this further down the page!)
Some software companies may own and produce hardware to accompany their software. While others partner with hardware companies so that either way you still experience a seamless one-stop-shop.
Hardware Options for Conference Room Management
If you are interested in hardware options to complement your software, you can look at some affordable options like QR Codes or ID Screens for desks and/or meeting rooms. Or maybe you'd like digital, interactive signs or kiosks to put outside of conference rooms or in your building lobby.
QR Codes are free to make and can be placed outside each desk, office, collaboration space or conference room. Using your software's mobile app, you're able to scan the QR Code to see if the room is in use, then claim it for however long you need.
ID Screens are another non-interactive, reasonably priced option that when connected to the platform will update with who has reserved the room and for when.
For meeting rooms, having an interactive digital sign might be the way to go. These displays can allow you to book, check-in, and see any upcoming reservations for that room.
And adding a lobby kiosk as one of the first things an employee sees upon entering the building can help quickly manage reservations and remind people to check-in or secure a spot before they get started on their day.
Key Features to Look for in a Meeting Room Booking System
We want to make sure you are getting the best meeting room booking software for both the administration and the end-user. These are the features to look for to ensure everyone is happy!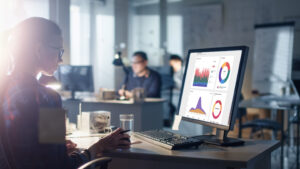 Three Top Features of a Meeting Room Booking Software for Admin
Data & Utilization
Are you being asked whether you have enough office space? Are you being told you don't? One of the biggest benefits of a room reservation software is being able to answer that question and many more like,
How is your office space being used?

Which conference rooms are most popular?

What kind of space could you use more of?
You may also have questions regarding your personnel that you can't currently answer like,
How often is Brian in the office?

Where is Kathy sitting right now?

Which location was Rosy in most last month?
A meeting room booking system should answer these questions and more for you. It should provide the insight you need to make short and long-term decisions for your office and its needs.
Whether you are deciding you need new office space, you want to add more collaborative areas, or you want to see which employees would benefit from part- or full-time remote work, the data from your software will help you with those decisions.
Business Rules & Configuration
As an admin, you aren't looking for a solution that makes your job harder. You want a software that takes some of the load off.
The meeting room and desk booking system that you decide on should eliminate the need to manually approve all room reservations, the frustration of double-booked meeting rooms and the emails and face-to-face time you receive from employees who need a favor or have a complaint regarding conference room management.
The software should include options like:
Ensuring people are using the rooms they have reserved.
With features like auto-bumping and grace periods, reservations must be checked-in to or they will be removed so that others can reserve and use the space. This is an automatic feature, so the admin doesn't have to see an empty room and manually open it.
Configuring each platform to look on-brand with your company.
Whether you are using the desktop platform, mobile app, or the digital hardware outside of meeting rooms, each should be customizable with your colors and photos to keep your brand consistent.
Allowing certain people or departments access to specific conference rooms or desks.
If I.T. has their own conference room, the software should allow you to grant access to reserve that room only to those I.T. users.  And some departments need to sit near each other, so creating "neighborhoods" of desks can be easy to set up with user groups.
Implementation
Implementation of your meeting room booking system should be short and sweet. Just like this section.
** Okay, but just a little more… the software should require only minimal I.T. support (they have enough on their plates already!). And training the end users should be unnecessary, or at least minimal.
Four Top Features of a Meeting Room Booking Software for the End-User
Intuitive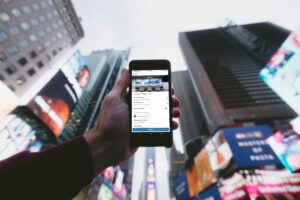 With the hustle and bustle of the every day, learning new software is the lowest on the priority list. Choosing the right desk and meeting room booking system means choosing the one that doesn't require training. The one where an end-user looks at it and gets it – because it looks like all the other apps they use, like AirBnB or Facebook. The interface is intuitive and just makes sense.
It should be easy to find the desk or conference room you want by looking at the office's floorplan. And even easier to reserve the room either using the desktop platform or the software's mobile app.
With the right system and relatively no training, you should be able to:
View all available desk and meeting rooms on a floorplan, in a list or through a calendar view

Reserve, manage and check-in to your space using your mobile phones

Find rooms based on the amenities your meeting needs i.e. whiteboard, video conferencing capability, etc.

Find where a coworker is located

See which days the office is busiest
Not Much Change
Even with no training required, some employees really don't love change. The right meeting room booking system will be integrated with commonly used platforms, like Microsoft Exchange, Outlook, Teams, etc., so employees can continue to book meetings and rooms on a well-known platform. When your reservation software and Microsoft Exchange are connected, all communication goes two-ways. So, reservations will show up on your Outlook calendar and on your software's platform. And will be accounted for from start to finish.
Find Teammates Easily
Not knowing where your teammates are sitting can be a big downside of hoteling. The right meeting room and desk booking system will offer the capability to find your teammates. And a bonus feature would be having the ability to choose your favorite teammates (or those you work with most) to see their locations whenever you log in to the software platform.
Seamless Meeting Experience
Frustrated with scheduling meetings? It can be a pain right from the start just trying to find an open conference room. Then there are the technical difficulties that come with starting every meeting.
Your workplace management system should –
START with the integration of commonly used platforms for ease of booking while adding the simplicity of fining open rooms. Then stay connected with each integration to ensure you never run into a double booking again.
THEN partner with other software that continues to give your meetings an easy, comfortable flow, like Intel Unite Solution. With that, once you've secured your meeting space and check-in, everything is connected. You say HERE and Intel Unite simultaneously connects displays, employees and other necessary technology.
FINISH feeling good because you ran that meeting flawlessly and WOWed your coworkers. 
Getting the Best Meeting Room Booking System – Next Steps
Researching and choosing the best meeting room booking system for your office can be daunting but, once in place, your life gets a whole lot easier.
When you find a company that looks promising and offers the features you are looking for, reach out and ask your own questions. Demo the product, gather your own intel, and share it with not only other decision-makers but also some of the future end-users.
Your modern employees and your modern office will thank you.
P.S. A Little History of AgilQuest's Meeting Room Booking Systems
So, why is AgilQuest's Meeting Room and Desk Booking System right for you?
In 2017, we made the switch from an On-Premise (Legacy) product, OnBoard, to our SaaS, cloud-based software, Forum. This change was created with you in mind. The Forum is not only quick and easy to implement, but also very intuitive, making end-user training unnecessary. (Although, our customer success and support team is always around to help!)
We are constantly updating and enhancing its features based on the needs of our clients. Ensuring our software is enjoyed by the end-user and valuable to admin.
So, if you are ready to demo the Forum or have any additional questions, let's talk!
Download your copy of this Meeting Room Booking eBook or learn more about AgilQuest's Solutions: