Claim Your Workspace in Seconds Using a QR Code
How Quickly Can You Secure a Workspace?
It's called a Quick Response (QR) Code for a reason!
What is a QR Code?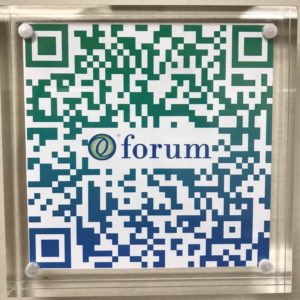 QR (Quick Response) Codes are barcodes that, when scanned, provide information about the item it's attached to. They were first introduced in 1994 and continue to slowly make their way into our lives.
They were never an overnight phenomenon but they really do have benefits far greater than one might think. With your slim, sleek smartphone, you can scan a code and be presented with a digital masterpiece – URL links, coordinates, text, etc. in seconds!
Some places QR codes are used now include…
Transportation stations so that a quick scan will give you real-time information on when your ride is arriving, leaving, running late, and more.

Museums so when scanned you will be provided with more information on the artwork, history, or person you are viewing.

Restaurants and bars showing their menu and even allowing you to order right from your phone
Unfortunately, they weren't really all that easy to use until recently when mobile manufacturers started allowing QR codes to be scanned using the camera. Now, you can scan a QR code with your phone's camera and a link will pop up at the top for you to click it!
Will you start using QR codes more often? Maybe not.
But what if you could…
Use the QR Code in the Forum App to claim an office or conference room wicked fast
We wanted you to be able to secure a workspace with Forum in the easiest, least time-consuming way. So, we added QR codes into the mix. Now, when a conference room or workspace has a QR code next to it, you can scan it on your Forum mobile app and claim it in seconds!
Now you can stop calling fivesies on your spot. Claim your workspace reservation with the QR feature, relish in the fact that the room is all yours, and relax (or maybe get to work). 
[Related Article: How Hot Desking Will Build Your Company]
Hot Desking made easy with QR Codes for your Hybrid Workforce
When creating, implementing, or managing your flexible workplace program, QR Codes can add another level of ease.
Many people shy away from the term hot desking because they assume it means workspaces are first come first serve and if you aren't there at 8am sharp you are out of luck. But that shouldn't be the case.
With the office often less than 50% capacity, there are workspaces and meeting rooms for everyone.
Employees just need to know which spots are open and to claim that space for the time they need without worrying it will be taken by someone else. When you combine QR Codes with Forum, employees can grab their space instantly for an hour, half the day, or the whole day. It makes hot desking work for your hybrid workforce.
Learn more about AgilQuest's workspace and meeting room reservation software with these helpful resources: