Cloud-based booking software for workspaces, and meeting and conference rooms
The Agilquest Forum is a SaaS platform where businesses of any size can manage meeting rooms, conference rooms and other resources for internal scheduling as well as booking by trusted partners.
The first to leverage a sharing economy of office space, the Agilquest Forum extends its functionality to any mobile employee for finding and booking office space for rent wherever they are. This provides business with an easy to implement, low-cost solution for monetizing unused office space and improving workplace efficiency.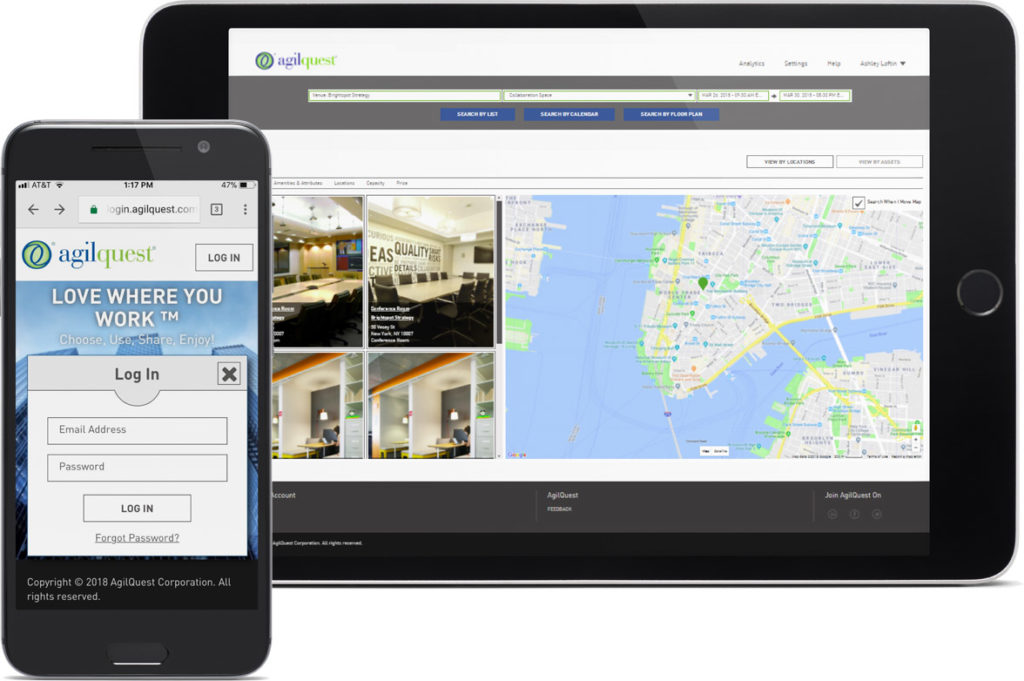 Immediate Ease of Use
Requires no training to set up and successfully manage resources
Intuitive Consumer Interface
Comprehensive, image-rich asset information that is responsive and fully functional on any device
Mapping and Wayfinding
Interactive floorplans and integrated Google map views get users where they need to be
Integrated Analytics
A powerful, built-in analytics platform with customizable dashboards and shareable reports
Exchange Integration
Seamless two-way integration for booking rooms in all Outlook clients, Teams, OWA, and iOS and Android Native Calendar Apps. Learn More
SaaS-based for Easy Implementation
Low implementation costs, rapid deployment, hands-free upgrades, all with no IT presence required
Share and Reserve Workplace Resources
Flexible reservation engine optimized for managing resources beyond desks, workspaces and conference rooms.
Request A Free Trial
Start using the Agilquest Forum today for 30-days at no cost or obligation.
Send Request