9 Office Hoteling Best Practices

Following these 9 Office Hoteling Best Practices makes switching from permanent assigned seating to a hoteling program simple.
Many companies are realizing the benefits of a flexible workplace and are starting to make the move. There's a comfortability associated with having a permanent seat in an office but the data doesn't always support it.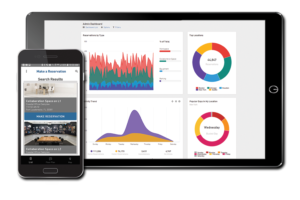 When an office is only occupied at 40% a day on average, it doesn't make sense to have employees scattered about when they could instead be working where they want, near the people they want. There are also many companies wondering if they need more real estate for their growing company. But it's unlikely.
With flexible workplace management, you can start seeing the real use of office space, allow employees to work more freely, and have a more productive workplace.
What is Office Hoteling?
Office hoteling means having workspaces and conference rooms available for employees to reserve or claim in advance or during the workday, instead of the traditional permanent seating. This allows employees the freedom and flexibility to work where they want when they want. 
There are many pros to office hoteling and, when implemented correctly, you really can't go wrong.
Here are 9 Office Hoteling Best Practices that'll help you do it right:
Get employees excited before the switch

Change can be scary but exciting! Especially if it's there to make your life easier. With office hoteling, employees can choose to work near their teammates, or their friends, (or even choose to be rather far from them). They can secure a workspace just for the afternoon or the whole week, when necessary. This gives employees more choice, which is what they want in a job.
But make sure they realize that is what you are offering. If this very large change to the office stays on the hush-hush, there will be chaos when trying to implement it. Start by explaining the benefits of a flexible workplace before the switch and get your employees on board.

Recruit your most excited employees to promote the idea and discuss it with their teammates and those around them. With employees advocating for Office Hoteling, making the switch will be easy!
Set communication standards and document the policy
You've done your job communicating the change before the change, but don't forget about communication throughout the process. From the start, everything anyone needs to know, from what office hoteling means for them, to what workspaces, reservation software, and policies the company is putting into place, needs to be clear and easily accessible.
Doing the work upfront to ensure the process will be implemented seamlessly and communication practices are in place will save you from the avalanche of questions and headaches that you may be used to.
Offer a variety of spaces
Every worker bee is different, so every hive should be unique.
Having a variety of spaces means each employee can find what works for them for a specific day or project and roll with it. Some employees might want the closed-door office option while others may want to sit in an open, collaborative space and have those around them spark their creativity. 
Knowing which type of workers you have in your office and offering the right spaces for them is a KEY best practice when turning to Office Hoteling. 
Provide attractive, efficient workspaces
Once you have an array of spaces to offer, make them inviting! Set up each room to be ergonomically AND aesthetically pleasing.
Add splashes of color throughout the building to boost creativity.
Provide comfy seating, pillows, etc. for the more open, collaborative spaces.
Make sure each workspace is set up for efficiency. That could mean desktop monitors, whiteboards, office supplies, etc. Give your larger workspaces and conference rooms fun names! Add nice, relaxing desktop photos to monitors around the office. Anything that makes the office, the rooms, the spaces more appealing to work in.
Make cleaning workspaces a breeze
Create a clean desk policy to make sure employees are keeping the workspaces decluttered and always available for someone else.
Again, this is a major change for many, so it will take some reminding to keep their personal items with them and not leave anything behind.
Having a list of to-dos, like throw away your trash, wipe down desk area, etc. and placing them at each workspace can help ensure each space is cleaned up by the end of the evening.
Keep it easy by having wipes, trash cans, and cleaning supplies right at hand for your employees.
Utilize cloud filing and storage
Is your company using cloud filing and storage? Making it easy to gain access to documents from anyone, anywhere is one of the office hoteling best practices that we stress.
With access to documents in the cloud, you and your teammates can work on a project without needing to be in the same room. It makes it easy to collaborate from wherever you are.
Implement a reservation software
With a meeting room and desk reservation software, reserving a workspace or meeting room is as easy as clicking a few buttons. Office hoteling without a reservation software can get messy. But with it, it's seamless. 
Find reservation software that
 –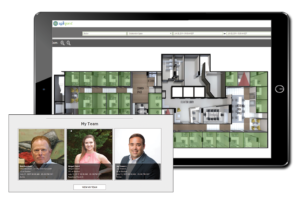 is intuitive and easy to use,
 – can integrate with often-used tools like Microsoft Exchange,
 – includes a mobile and desktop version,
 – allows employees to see where their team members are working
 – and offers analytics to show you how your office is being utilized and how much space you still have.
Enable auto-bumping
A good reservation software will include an auto-bump feature so that your rooms are being used as shown or are readily available for the next worker when they are no longer needed.
When employees create a room reservation, checking in is easy using the mobile app or desktop version of the software.
If an employee ends up not needing the room and doesn't check-in, the auto-bump feature will remove that reservation and open up the space for whoever needs it next. That way your workspaces and conference rooms aren't sitting empty all day.
Prepare for short/impromptu visits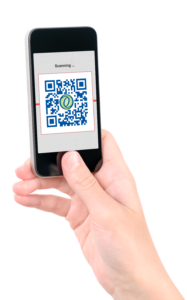 Another feature to look for in a booking software is the ability to secure workspaces quickly and last minute, especially for the more remote workers.
With a QR code outside of each workspace, an employee can snap it with their mobile app and claim the room in seconds. Having these instant and easy options make employees and companies excited about their office hoteling program.
Follow these 9 Office Hoteling Best Practices to take your company into the modern age of flexible workplaces. Then sit back and watch it succeed!
Have any other best practices for office hoteling? Share them in the comments!
Are you ready to take on Hoteling but your company might not be?
Check out these 5 Keys to a Successful Workplace Hoteling Plan: start by securing executive commitment and work all the way through until you are ready to communicate the plan with employees.